What Size Storage Unit Do You Need?
Need to rent a storage unit but have no clue what size you need? It can be difficult determining how much space you may need, especially if you are renting a storage unit for the first time. Every storage facility offers a variety of sizes, but which one is best to fit your needs? To avoid renting a unit too big or small, check out the following guide for an estimate of how much can fit in each size unit: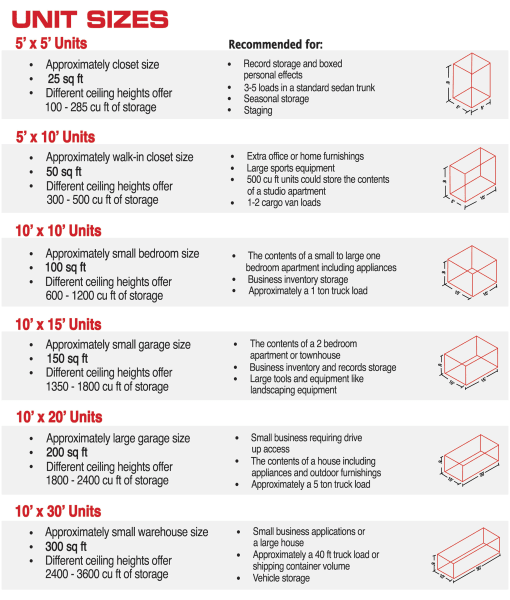 5x5 Unit: Ideal for items such as chairs, boxes, miniature desks, golf clubs, tires, seasonal items, documents & records.
 
5x10 Unit: Recommended for a small one-bedroom apartment or dorm (without appliances). Ideal for chairs and small dining set, bicycles, boxes, kitchen appliances, small mattresses, or a motorcycle.
 
10x10 Unit: Recommended for a large one-bedroom or small two-bedroom apartment/condo. Ideal for storing small to large items such as large appliances, furniture, king-size mattresses, and furniture. ​​​​​​
 
10x15 Unit: Recommended for storing the contents of a two-bedroom condo or townhouse. Store items such as landscaping equipment, business merchandise, large furniture, or full dining room.​​​​​​
 
10x20 Unit: Recommended for the contents of a three-bedroom home, small business, or vehicle. Store small to large items such as excess inventory, warehousing, sports equipment, small furniture sets, and boxes.
 
10x30 Unit: Recommended for a four-bedroom(+) home with appliances or commercial inventory. This size is ideal for the contents of a large home.
Contact the location nearest you to start getting organized today. If you're not sure what size you will need, our team of experts are here to help. We'll assess your situation and make recommendations based on your needs and budget to make sure you get the right size to get the job done.